The Children's Liver Foundation hosted a Wilson's Disease meeting on 13th July, 2019 at 2.00 pm Nehru Centre, Worli. The meeting was well attended by roughly 46 patients some of whom were accompanied by their family members or friends. It was appalling to see the many Invitees & doctors attend and give their support in their fields of medicine and research.
The meeting began with a silent national anthem. The patients experience sharing was one of the core ideas to the Wilson's disease Support group. Many of them spoke about their lives before and after being diagnosed with Wilsons Disease. This encouraged many patients as well as parents to speak up about the same. This was the most touching part of the seminar and brought many to tears listening to fellow Wilsonians and their parents speak. It was beautiful to see how much some of the most appreciative parents totally trusted and relied on Dr. Aabha Nagral and her team of specialists for treatment. The bottom line to this sharing was never give up - the battle can be won.
Some of the talented Wilsonians presented their works of arts and crafts. The paintings by Dalvinder and Ranson put the judges in a dilemma as to who to judge for the prize on the Talent show. Among others Sanjeevani had a lovely display of her craft works, Ankush sang, and a poem by Janice.
Some invitees and doctors spoke about their work related to Wilson's disease and other diseases like Thalassemia, hepatitis etc. Post a few experience sharing sessions, the patients were asked to think of a dream they'd like to accomplish in the next 5 years. This could range from being simply happy with oneself to having a family. This dream was to be expressed on each patient's personal dream board given to them. They were very creative with the presentation of their dreams. Others just did what they were good at, prizes were given in age group categories to the best works. This activity was initiated with the goal of encouraging patients to dream and motivate them towards higher achievement than yesterday. Post few more experiences that were shared there was a doctor patient interactive session where patients inquired about the problems that they are facing with regard to the disease and it's management. This was another important aspect to the meeting because many a time patients may experience similar side effects of medication or the disease itself or even have doubts about the diet one has to follow post fresh diagnoses. The programme came to a close with a thank you poem that was written by Janice.
All in all, the meeting was one to remember with all the conversations one could have with the patients, family members or close friends while also spreading awareness about the disease. Such meetings have come to form an integral part of scientific inquiry on the part of doctors who express interest in such rare diseases and most importantly that they be supported in their intention to do the same. The session ended at 7.30 pm.
ISPGHAN 2018 Videos
Day 1 | Day 2 | Day 3
PPT Downloads|| HEPATICON 2017 Videos



Watch inaugural video here, all videos here



On Saturday, the 25th of March, Children's Liver Foundation in association with Indian Academy of Pediatrics, Mumbai organized their 5th collaborative meeting "Hepaticon 2017" a meeting on a single theme – "Wilson disease - Bench to the bedside" at Nehru Centre in Worli. The meeting was endorsed by Indian Association for Study of the Liver (INASL) and Movement Disorders Society of India (MDSI). Wilson disease is a rare autosomal recessive inherited disorder of copper metabolism that is characterized by excessive deposition of copper in various organs of the body, most commonly the liver and the brain. The interesting and yet challenging aspect of this disease is its myriad manifestations where patients may be as young as 3 years old to the adult 55 years old. The meeting served a much needed collaboration between Neurologists, Gastroenterologists and Pediatricians' experience of this disease whose manifestations may be complex and often get diagnosed late, misdiagnosed or even over-diagnosed. The conference was first of its kind where doctors from different specialties from different parts of India came and shared their perspectives and encounters with different presentations and outcomes of the disease. Besides our local faculty, we had institutions like AIIMS, Delhi, NIMHANS, Bengaluru, PGI Chandigarh, SGPGI, Lucknow, CMC Vellore, Apollo Hospitals Delhi and Chennai and ILBS Delhi and many others participate in the meeting. The highlight of the inaugural function was a poem recited by Janice – a patient of Wilson's on her life journey from being a bed ridden patient to a normal life she leads now. Ojas – another patient of Wilson disease recounted his journey from presenting with acute liver failure to undergoing a liver transplant and now being well rehabilitated and pursuing undergraduation in Medicine. Dr Aabha Nagral of Children's Liver Foundation, Dr Bela Verma from IAP, Mumbai, Dr RK Dhiman from INASL and Dr Pettarusp Wadia from MDSI inaugurated the meeting. The talks and presentations on this day helped us understand and opened our minds to the unlimited variables of how Wilson's disease can present. We were given interesting information about copper, how it can be beneficial in health and also how it's excess can damage our body. Through case presentations, management of different presentations was discussed and we learnt how differently the neurologists and gastroenterologists treat Wilson's. There was a healthy discussion and debate on whether the disease should be treated with zinc or penicillamine or a combination of both. Genetics, developmental pediatrics, speech therapy, physiotherapy, diet and psychology related issues of the disease were also discussed in great detail to emphasize the need for a more holistic approach. The audience was enlightened about the 600 different mutations Wilson's can have and the importance of family screening. The role of development, management of behavioural changes and counseling was emphasized by developmental Pediatrician and IAP President - Dr Samir Dalwai as being as important as taking medications. He proposed a collaborative study between CLF and IAP, Mumbai on studying the developmental and behavioural issues in these patients where very little work has been done. Light was thrown upon the unfortunate disappearance of the very important drug Penicillamine from the market, how much inconvenience it had caused the patients and how doctors and medical societies worked hard to get the medicine back into the market. In spite of the conference being on such a focused topic, the interaction amongst the delegates and faculty kept every person glued in for the 10 hours of the day that the meeting lasted with a resolve to develop guidelines in managing this disease with an Indian perspective.
The powerpoint presentations and video-recorded proceedings of the meeting will be available by 30th April 2017 on the website of Children's Liver Foundation i.e.www.childrenliverindia.org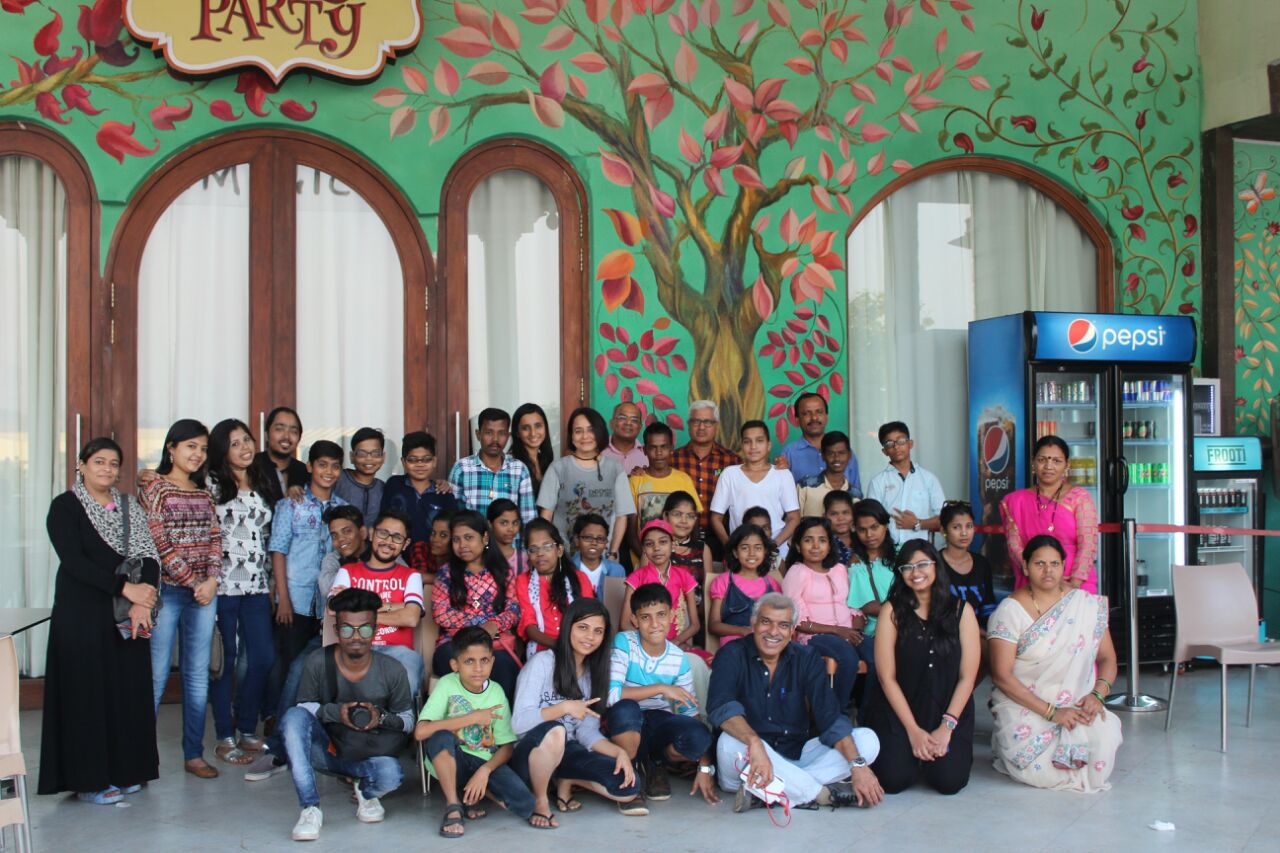 A UNIQUE DAY OUT !
On Christmas eve 2016, a group of enthusiastic young adults came together for an outing to the IMAGICA theme park organised by Children's Liver Foundation(CLF) in collaboration with THINK foundation. They were all patients of thalassemia who have been successfully treated for Hepatitis C.
Hepaticon 2020 was organised on 2nd Feb, 2020 by Children's Liver foundation and IAP, Mumbai and was endorsed by ISPGHAN (Indian Society of Pediatric Gastroenterology Hepatology and Nutrition). It was held at Nehru Centre, Mumbai. Hepaticons have been regularly organised for the last 5 years and have been popular for their case based discussions and interactive format. The theme this year was "All about Jaundice"
Dr Aabha Nagral, the organising secretary of Hepaticon 2020 introduced the intercollegiate PG quiz for the first time with 23 teaching institutions from Mumbai and Pune participating in the quiz. It was a huge success with a theory MCQ round in the beginning followed by selection of the 5 top teams and an oral round in the main meeting. It was conducted by Dr John Matthai who kept the packed house completely spellbound throughout upto an exciting finish. Jagjivan Ram Hospital, Wadia Hospital and Sion Hospital teams got the first, second and third prizes respectively.
The inauguration included a short film on the activities of Children's Liver Foundation by Dr Aabha Nagral and talks by IAP, Mumbai President Vinay Joshi, IAP Mumbai past president Uday Pai and Dr John Matthai , President ISPGHAN and Dr YK Amdekar who is passionate about teaching and has been regularly involved in all the Hepaticons.
The interactive case discussions were on all common situations which can cause jaundice in clinical practice and cases ranging from neonatal jaundice to acute liver failure were presented by Pediatrics PGs and Pediatric Gastroenterology PGs from Mumbai and outside.
The National faculty included Dr SK Yachha (Bangalore), Dr John Matthai (Coimbatore), Dr Malathi Satiyasekaran (Chennai), Dr Anshu Srivastava (Lucknow), Dr Ashish Bavdekar (Pune), Dr Seema Alam (Delhi), Dr Lalit Bharadia (Jaipur) and Dr Yogesh Waikar (Nagpur) and Dr Girish Gupte from Birmingham,UK.
The national and local faculty from Mumbai participated not only in their sessions but actively contributed throughout the meeting. The meeting was webcast and has been accessed by a large number of Pediatricians all over the country. The live telecast of the meeting will soon be available on this website.
Watch live proceedings of Hepaticon 2020
Worldwide, diseases of the liver are being increasingly recognized as a cause of ill health in adults as well as children. On the other hand effective measures to prevent, diagnose & treat them have now been developed. In India there is a general lack of awareness about liver disease, especially in children who hence suffer from delayed or missed diagnosis as well as lack of access to appropriate treatment options. With this background , a group of concerned individuals which also include medical professionals and parents have decided to set up this foundation to primarily create awareness on liver disease in children.
To promote research into paediatric liver disease
To spread awareness about paediatric liver disease amongst medical professionals and the public through lectures, educational material, website, conferences, workshops (national and international) and other media and activities. This includes post diagnostic measures as well as supporting & creating awareness of preventive measures as may be possible , including vaccination etc....
To support children with liver disease and their families in all aspects including facilitating surgeries, making available medicines and investigative facilities , consultation with doctors, providing financial and logistics support and counselling to the families of such patients.
To support & promote liver transplantation as one of the treatments of liver disease, this includes creating awareness for donation of liver.
To support setting up of investigation and treatment facilities for children with liver disease