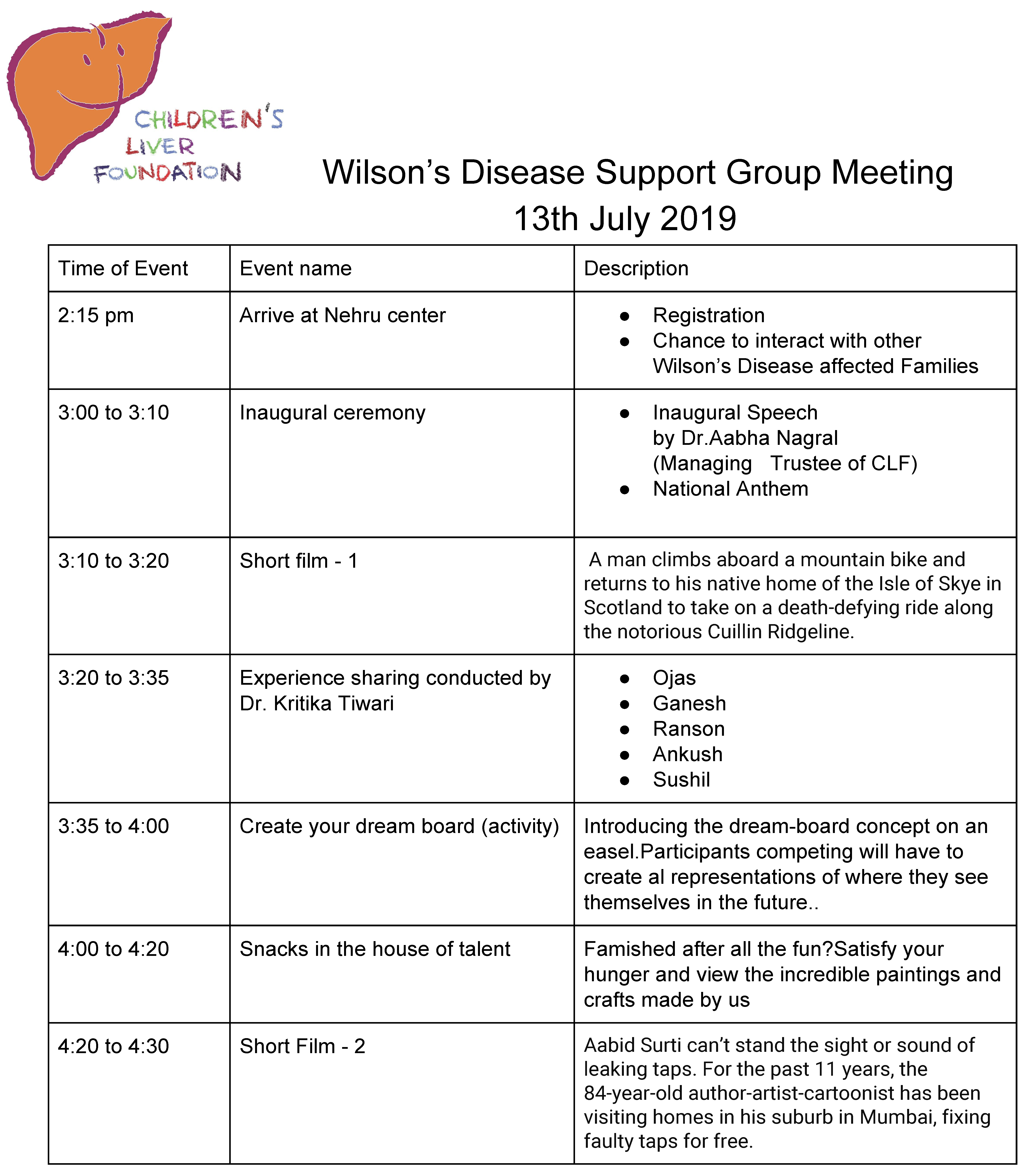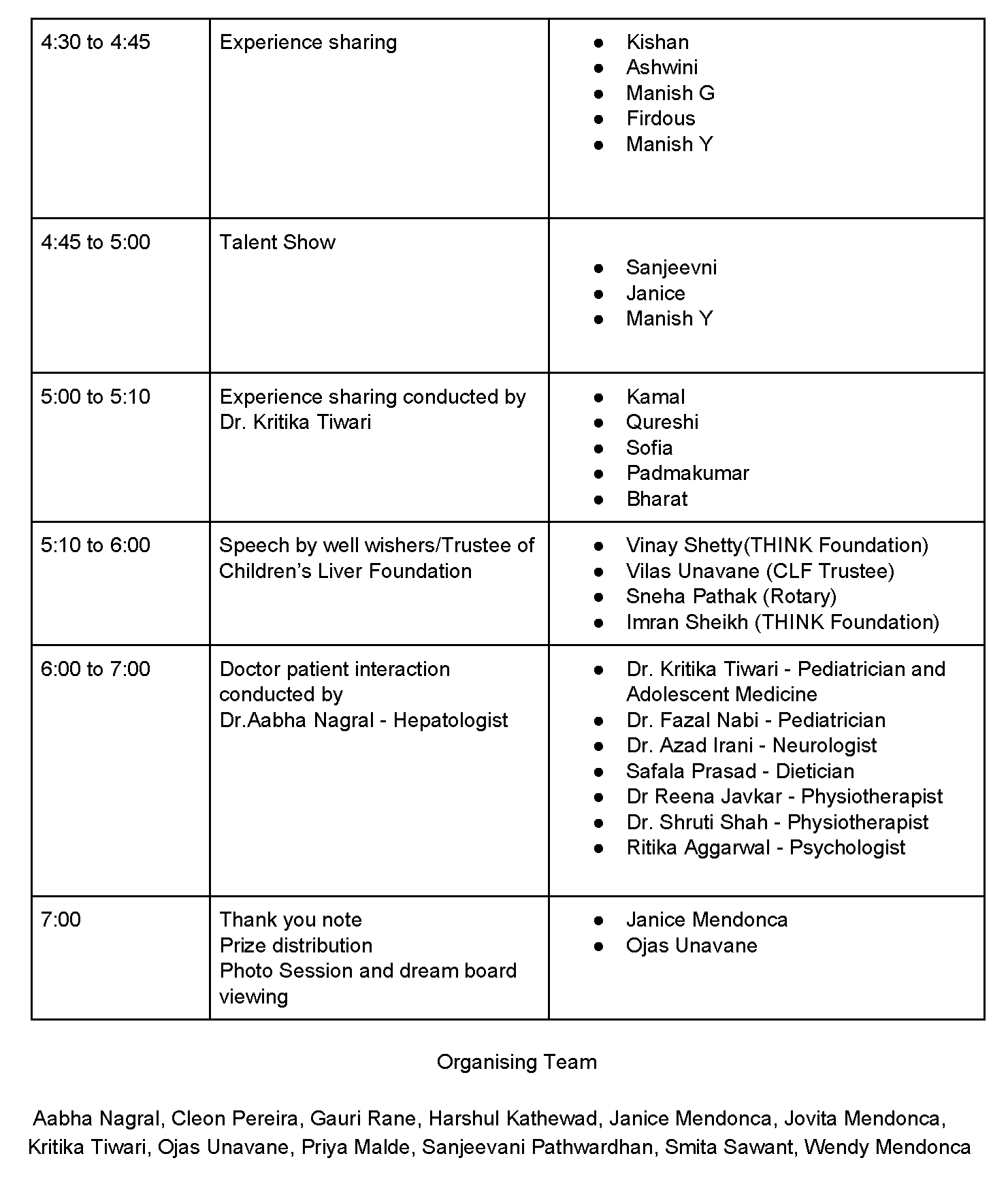 Wilson's Disease Support Group Meeting
13th July 2019
Time of Event Event name Description
####2:15 pm Arrive at Nehru center
. Registration
. Chance to interact with other
Wilson's Disease affected Families
####3:00 to 3:10 Inaugural ceremony . Inaugural Speech
by Dr.Aabha Nagral
(Managing Trustee of CLF)
. National Anthem
#### 3:10 to 3:20 Short film - 1 A man climbs aboard a mountain bike and
returns to his native home of the Isle of Skye in
Scotland to take on a death-defying ride along
the notorious Cuillin Ridgeline.
####3:20 to 3:35 Experience sharing conducted by
. Dr. Kritika Tiwari
. Ojas
. Ganesh
. Ranson
. Ankush
. Sushil
####3:35 to 4:00 Create your dream board (activity) Introducing the dream-board concept on an
easel.Participants competing will have to
create al representations of where they see
themselves in the future..
####4:00 to 4:20 Snacks in the house of talent Famished after all the fun?Satisfy your
hunger and view the incredible paintings and
crafts made by us
####4:20 to 4:30 Short Film - 2 Aabid Surti can't stand the sight or sound of
leaking taps. For the past 11 years, the
84-year-old author-artist-cartoonist has been
visiting homes in his suburb in Mumbai, fixing
faulty taps for free.
####4:30 to 4:45 Experience sharing
. Kishan
. Ashwini
. Manish G
. Firdous
. Manish Y
####4:45 to 5:00 Talent Show
. Sanjeevni
. Janice
. Manish Y
####5:00 to 5:10 Experience sharing conducted by
Dr. Kritika Tiwari
. Kamal
. Qureshi
. Sofia
. Padmakumar
. Bharat
####5:10 to 6:00 Speech by well wishers/Trustee of
Children's Liver Foundation
. Vinay Shetty(THINK Foundation)
. Vilas Unavane (CLF Trustee)
. Sneha Pathak (Rotary)
. Imran Sheikh (THINK Foundation)
####6:00 to 7:00 Doctor patient interaction
conducted by
. Dr.Aabha Nagral - Hepatologist
. Dr. Kritika Tiwari - Pediatrician and
Adolescent Medicine
. Dr. Fazal Nabi - Pediatrician
. Dr. Azad Irani - Neurologist
. Safala Prasad - Dietician
. Dr Reena Javkar - Physiotherapist
. Dr. Shruti Shah - Physiotherapist
. Ritika Aggarwal - Psychologist
####7:00 Thank you note
.Prize distribution
.Photo Session and dream board
viewing
. Janice Mendonca
. Ojas Unavane
####Organising Team ####
Aabha Nagral, Cleon Pereira, Gauri Rane, Harshul Kathewad, Janice Mendonca, Jovita Mendonca,
Kritika Tiwari, Ojas Unavane, Priya Malde, Sanjeevani Pathwardhan, Smita Sawant, Wendy Mendonca