CLF in the news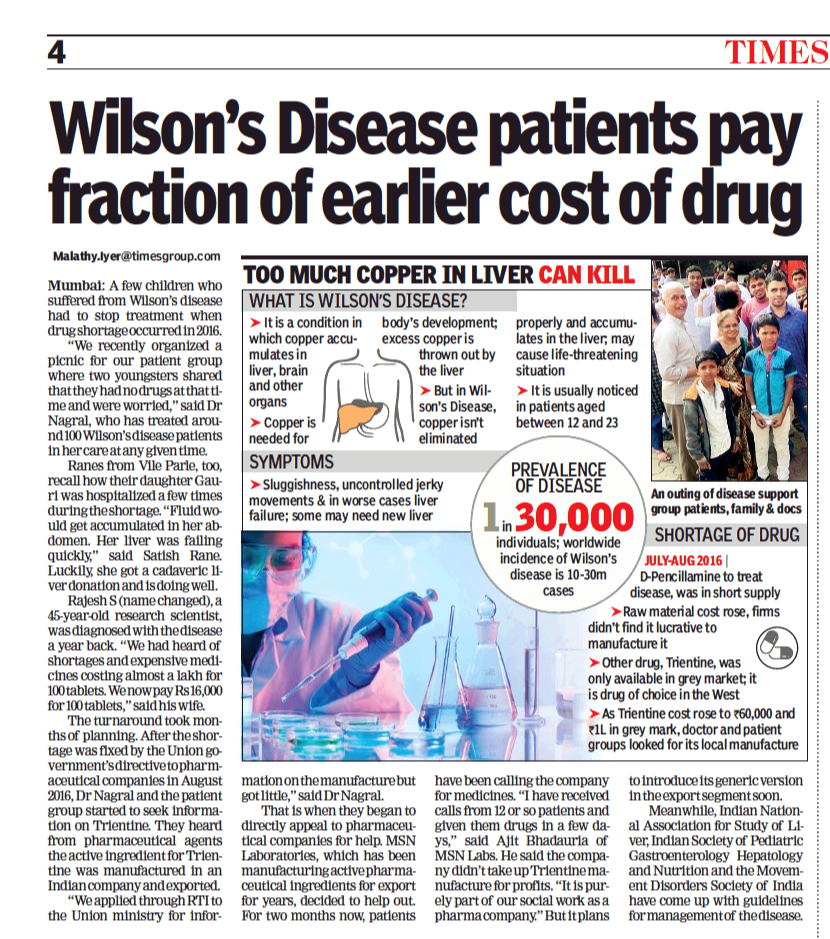 Source: TOI, 17 March 2019
Link to Epaper: https://epaper.timesgroup.com/Olive/ODN/TimesOfIndia/get/image.ashx?kind...
https://timesofindia.indiatimes.com/city/mumbai/hearing-patients-plight-...
Source : http://timesofindia.indiatimes.com/city/thane/Wilsons-disease-patients-b...
Thane: Twenty-six-year-old Janice Mendonca was a part of an outing organized by a support group on Saturday to a water park in the city and actively enjoyed every ride. Nothing exceptional apart from the fact that she is battling Wilson's disease, a genetic disorder for the past eight years. She participated in the outing with 24 others, who are also suffering from the disease.
Mendonca said, "People often look at us as if we are abnormal only because of a defect in a single chromosome. Being with those around me who know what I am going through, I feel like there is nothing we cannot do provided we take our medication and treatment.
Sun, 30 Aug 2015
Aayushi Pratap
htmetro@hindustantimes.com
Fellow patients to share rare drug with Pakistan teenager
A group of patients, who attended a gathering on Wilson's Disease at the Tata Memorial Hospital, have volunteered to give her (Saba Ahmed) the tablets after learning about her struggles.
DR ABHA NAGRAL
MUMBAI: Doctors at Jaslok Hospital, Peddar Road, will finally be able to give Pakistan citizen Saba Ahmed a new drug after she was unable to tolerate the standard drug given to most Wilson's Disease patients.
Source/ Reference : http://timesofindia.indiatimes.com/city/mumbai/Pak-girls-health-improvin...
TNN | Aug 30, 2015
Mumbai: Saba Ahmed, the 15-year-old Pakistani girl who was rushed to Mumbai due to complications of a rare genetic disorder, was well enough within a week to attend a support group meeting on Saturday.
Ordinary Mumbaikars raised over Rs 3.5 lakh through a crowd-funding effort to help the teenager fly into Mumbai last week from Karachi for treatment of Wilson's Disease. Her mother Nazia said, "We found out she had Wilson's disease 18 months ago. When doctors back home told me that Saba would never again speak or walk, we came to Mumbai."
Wilson's Disease is a rare genetic disease linked with copper depositing in the tissues and cells of the diagnosed. This disease turns untreatable in the later stages, but it is curable if it is detected early.

Dr. Aabha Nagral, presently treating around hundreds of patients suffering from Wilson's disease, defined WD. as an unexplainable chronic disease, which needs to be monitored well by experts.
This disease can be identified easily in patients.