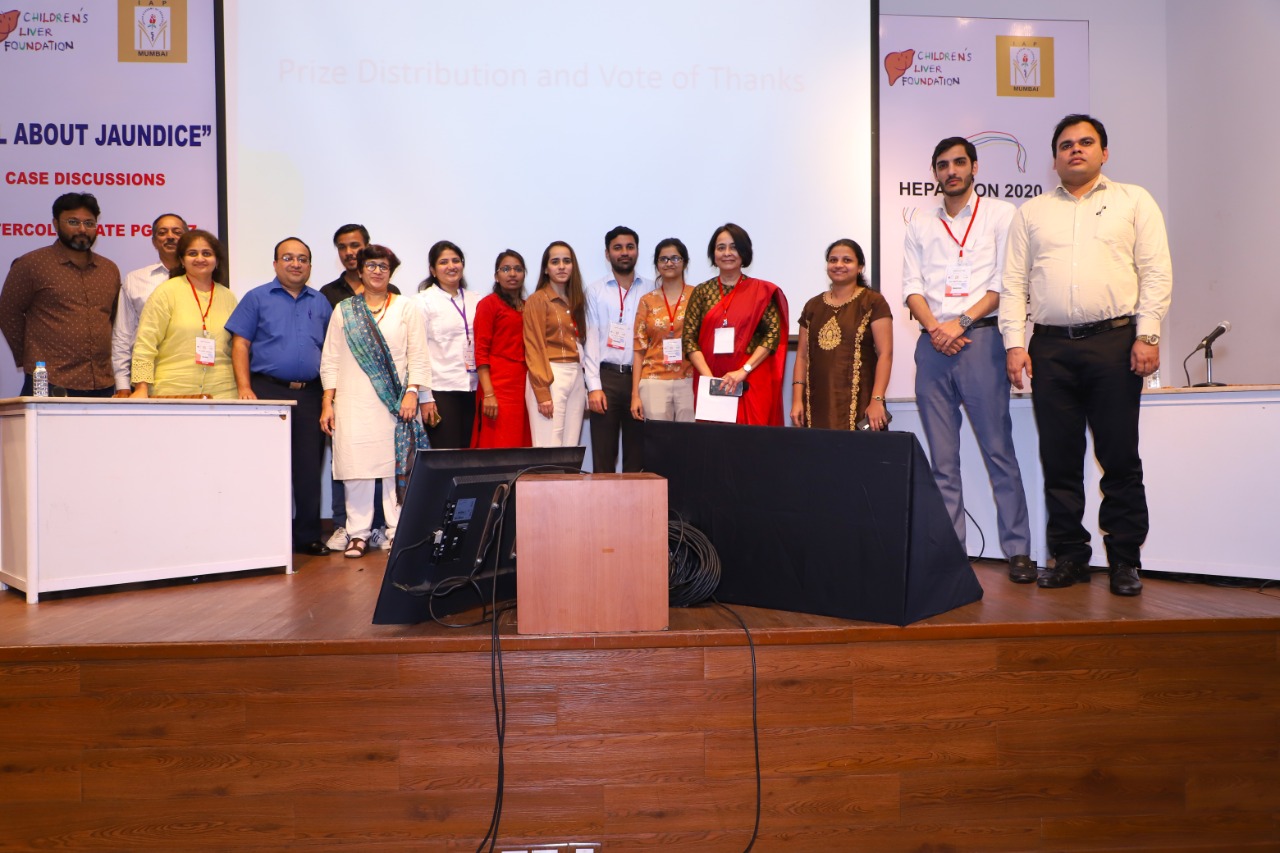 Hepaticon 2020 was organised on 2nd Feb, 2020 by Children's Liver foundation and IAP, Mumbai and was endorsed by ISPGHAN (Indian Society of Pediatric Gastroenterology Hepatology and Nutrition). It was held at Nehru Centre, Mumbai. Hepaticons have been regularly organised for the last 5 years and have been popular for their case based discussions and interactive format. The theme this year was "All about Jaundice"
Dr Aabha Nagral, the organising secretary of Hepaticon 2020 introduced the intercollegiate PG quiz for the first time with 23 teaching institutions from Mumbai and Pune participating in the quiz. It was a huge success with a theory MCQ round in the beginning followed by selection of the 5 top teams and an oral round in the main meeting. It was conducted by Dr John Matthai who kept the packed house completely spellbound throughout upto an exciting finish. Jagjivan Ram Hospital, Wadia Hospital and Sion Hospital teams got the first, second and third prizes respectively.
The inauguration included a short film on the activities of Children's Liver Foundation by Dr Aabha Nagral and talks by IAP, Mumbai President Vinay Joshi, IAP Mumbai past president Uday Pai and Dr John Matthai , President ISPGHAN and Dr YK Amdekar who is passionate about teaching and has been regularly involved in all the Hepaticons.
The interactive case discussions were on all common situations which can cause jaundice in clinical practice and cases ranging from neonatal jaundice to acute liver failure were presented by Pediatrics PGs and Pediatric Gastroenterology PGs from Mumbai and outside.
The National faculty included Dr SK Yachha (Bangalore), Dr John Matthai (Coimbatore), Dr Malathi Satiyasekaran (Chennai), Dr Anshu Srivastava (Lucknow), Dr Ashish Bavdekar (Pune), Dr Seema Alam (Delhi), Dr Lalit Bharadia (Jaipur) and Dr Yogesh Waikar (Nagpur) and Dr Girish Gupte from Birmingham,UK.
The national and local faculty from Mumbai participated not only in their sessions but actively contributed throughout the meeting. The meeting was webcast and has been accessed by a large number of Pediatricians all over the country. The live telecast of the meeting will soon be available on this website.
Watch live proceedings of Hepaticon 2020
Final Program of Hepaticon 2020